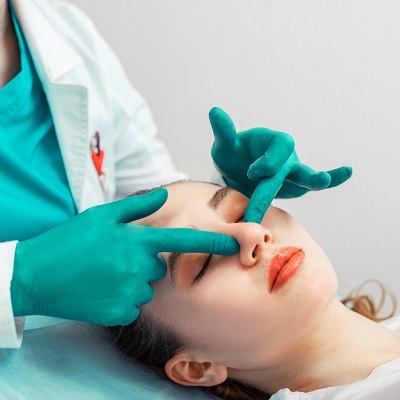 LOOK BETTER FEEL BETTER
The nose is the most significant feature for giving you a perfect look. Some people have a God gifted beautiful nose. At the same time, some people are not happy with the shape of their noses. Some people might have breathing difficulty due to blockage of the nasal spectrum, and some want to reshape their noses. 
Somehow many people are having issues with their nose shape, but no need to worry now because Nose Reshaping / Rhinoplasty in Islamabad Pakistan will sort out all your problems. By getting Rhinoplasty, you will achieve the perfect nose shape.
What Is Rhinoplasty?
Rhinoplasty is also referred to as a nose job. It is the most famous cosmetic procedure to enhance the shape of the nose. This procedure is performed to get the perfect nose shape and correct any breathing problems or congenital disabilities. At Estheticare Clinic, we have the best surgeons that will perform Rhinoplasty.
Right Candidates for Rhinoplasty:
Men and women both can get Rhinoplasty. But it would be best if you are an ideal candidate to get a Rhinoplasty, and it will be decided after a consultation with our surgeons. This cosmetic surgery is best for people:
who want to reshape their nose
who wish to correct any birth disability
who have any breathing issue
Whose nose shape has changed due to some physical injury
who have realistic expectations about the results
who are not happy with their nose shape
Age must be above 18.
Types Of Rhinoplasty:
Different types of Rhinoplasty are performed by the best surgeons in Islamabad, depending upon the condition of the patient's nose.
Open Rhinoplasty
If you have any nose injury, the surgeon suggests open Rhinoplasty. The surgeon incises between the nostrils during this procedure and can see the nose's internal structure. In this way, he can easily understand how to shape the nose perfectly. Our surgeons try their best not to get any scars.
Closed Rhinoplasty
In closed rhinoplasty, the incisions are made within the nostrils, and changes can be made inside the nose as it is a complex surgery, so experienced surgeons perform it. This type of surgery will leave a scar inside the nose.
Tip Plasty
Tip plasty is suitable for people who only want to change the shape of the tip of the nose. Tip plasty is also known as alarplasty. It gives you a more appropriate and symmetrical nose shape.
Filler Rhinoplasty
Fillers rhinoplasty is not considered a non-surgical treatment because no incisions or stitches are required. This treatment method is used for people who want to change the nose shape or want to increase the size of the nose. The results of filler rhinoplasty are not permanent.
Procedure 
Rhinoplasty is a complex surgery that takes about 2 to 3 hours. The whole treatment procedure is done under general anesthesia. The procedure steps are different depending upon the type of Rhinoplasty the surgeon will perform. Firstly, the surgeon will make incisions depending upon open or closed Rhinoplasty and modify the nose structure according to patient requirements.
The doctor will check your blood pressure, oxygen level, and heart rate side by side. After the surgery is done, the surgeon will apply a splint to maintain the new nose shape and reduce the swelling over the treatment area, and he will sew the incisions with stitches.
After getting Rhinoplasty, the surgeon may recommend one night stay at the clinic.
Recovery time After Rhinoplasty:
The recovery time is different depending upon the healing ability of the patients. Usually, it takes about 1 to 2 weeks to recover after Rhinoplasty. After the surgery, you will face swelling on the nose, which will disappear after 5 to 6 months, or it may take a year. And you will see the final results.
For a faster recovery, you should follow all the instructions given by your doctor. The surgeon may recommend anti-swelling medicines after this surgery. After a year, your nose will heal completely, and you do not need to take extra care of your nose.
Results Of Rhinoplasty:
The result of a nose job is long-lasting. You will get a more contoured nose after Rhinoplasty. You will start seeing the results of Rhinoplasty after 3 to 4 months. You should not be impatient to see the results. 
Rhinoplasty results can be affected by the aging process, so that you can go for another session of Rhinoplasty. If you want outstanding results of Rhinoplasty, then select the best clinic and surgeon in Islamabad.
Benefits Of Rhinoplasty
There are many benefits of getting a rhinoplasty in Islamabad. some are:
It will give you long-lasting results.
It will fix all your breathing problems.
You will get your desired nose shape.
It will improve your confidence.
Improve your facial appearance.
 It can increase or decrease the size of the nose.
Rhinoplasty Risks:
Whether major or minor, all cosmetic procedures may have a risk involved in them. But all these risks can be minimized by choosing the best surgeon in Islamabad. The risk of nose reshaping are :
Infection
Swelling
Noticeable scarring
Numbness in the treatment area.
Pain
Septal perforation
All these risks can be seen temporarily and avoided with the prescribed medicines.
Cost of Rhinoplasty In Islamabad:
The Cost of Rhinoplasty in Islamabad Pakistan is between 80,000 PKR to 300,000 PKR. The cost of Rhinoplasty varies depending upon the type of Rhinoplasty needed for your nose. There are several factors based on which the cost of Rhinoplasty is decided:
Fees of the surgeon
Clinic's location
The technique used for nose reshaping
Book An Appointment
If you want a well-balanced nose, consider non-other than Rhinoplasty Nose Reshaping in Islamabad Pakistan. We have the best surgeons to help you attain the perfect nose shape. Book an appointment now to achieve your dream look.