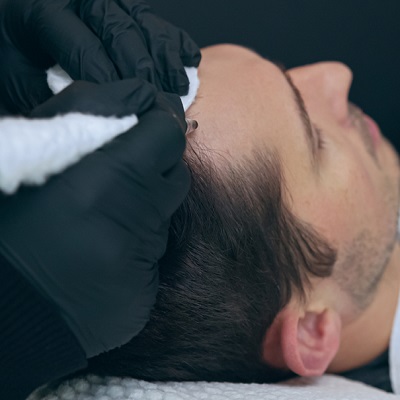 Hair loss problem is commonly seen in many people nowadays due to genetic and age factors. But no need to worry now. You can get a fuller hair look and perfect hairline by scalp micro pigmentation in Islamabad. This treatment is like getting a tattoo on the skin layer, which will give the appearance of natural hair follicles.
What Is Scalp Micropigmentation?
It is a non-surgical treatment in which ink is deposited into the tiny cuts. Scalp micro pigmentation is best for people afraid of surgical therapy and who want a painless procedure to get their hair back. It is a multi-step procedure in which the patient can also select the colour of hair pigment. One important thing that you should have in mind is that it is like getting a tattoo so that it won't grow your hair back; instead, it will give an appearance of growing hair follicles. 
Advantages Of Scalp Micropigmentation
Following are some advantages of scalp micropigmentation:
It is a non-invasive and less painful method compared to other types of procedures.
This treatment will give you instant results, and you only need 2 to 3 sessions to get your desired look.
If you have empty patches, receding hairline, or baldness, this treatment can benefit you.
It does not give you any scarring
It is a budget-friendly way to regain your confidence and self-esteem
It is low maintenance treatment with less recovery time
Factors Causing Hair Loss:
Many factors cause hair loss problems in men, such as:
Genetic factors
Age factor
Hormonal changes
Emotional Trauma
These factors can trigger the hair loss problem in both men and women. Due to the hair loss problem, the person's self-confidence is lowered. But no need to worry now. If you have this problem, then go for scalp micropigmentation. This treatment will help you get your confidence back.
Right Candidate to Undergo This Treatment
You are the right candidate for scalp micro pigmentation in Islamabad if you fulfil the following conditions:
You have realistic expectations about the results
You must be above 18
You want a virtual appearance of fuller hair look
You want a defined hairline
You want to feel better about yourself
You don't want to undergo a surgical procedure
You are an overall healthy person
You are suffering from alopecia
Results:
The results of scalp micro pigmentation vary from person to person. If performed by the best skilled and expert surgeon, you can get long-lasting and guaranteed results. The results can last up to 6 to 7 years or may fade away in a few time if you do not adequately take care of your head.
Procedure:
Before starting the scalp micro pigmentation, you will have an initial consultation with the doctor in which the patient will choose the type of hairstyle he wants, and the colour of hair pigment is also selected. This treatment takes three sessions to complete, and each session takes about 1 to 2 hours. After this, he will determine the type of needle and penetration depth. Then the injection is filled with the ink colour matching the natural hair colour. The pigment is injected into the epidermis of the skin. More pigment is injected in the other two sessions to get the desired hair colour.
Recovery:
You will feel some redness in the treatment area, which will fade away. You will recover in a few days and the recovery time also varies depending upon the patient's natural healing power. If you want to recover quickly, don't do workouts and avoid going in the sun directly. Please do not wash your head as it can cause infection. It would be best to avoid unnecessary touching on the treatment site.
Disadvantages Of Scalp micro pigmentation:
This treatment has advantages as well as minor disadvantages also. Such as, you cannot change your style unless you have to undergo laser treatment to remove the pigment. The other disadvantage of this treatment is that if you are an outgoing person, the pigment will fade away more quickly in sunlight. So you have to avoid the sunlight, which is quite difficult if you are an outing person.
Although it has some disadvantages, it is considered the number one way to get a fuller head due to the benefits it serves.
Cost Of Scalp Micropigmentation:
The cost of scalp micro pigmentation in Islamabad starts from 15,000PKR. The cost may go above depending upon the size of the treatment area and the condition of the patient's skin. The surgeon will determine the exact cost after having an initial consultation with the patient.
Book An Appointment:
If you are willing to know more about scalp micro pigmentation, consult our team or book an appointment with the best surgeons.