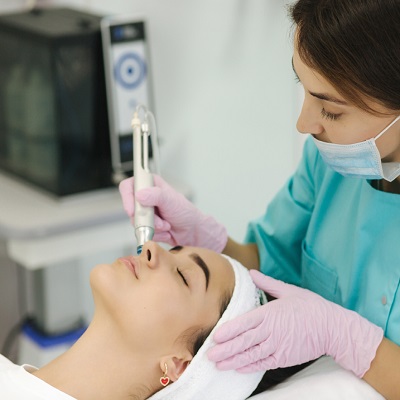 " LIFE ISN'T PERFECT, BUT YOUR SKIN CAN BE."
Hydrafacial is becoming a more popular cosmetic treatment all around the world. Because this facial treats common skin problems, it is also known as skin resurfacing therapy because it will clean all the pores and hydrate the skin in no time. It is like getting a regular facial, but it gives more dramatic and long-lasting results.
What is a Hydrafacial?
Hydrafacial is also known as skin rejuvenation treatment. This facial is a multistep treatment that delivers hyaluronic acid, vitamins, peptides, and antioxidants to your skin.
It gives your skin a natural glow. Hydrafacial improves the appearance and texture of the skin by removing all the impurities, wrinkles, dark spots, blackheads, and dryness of the skin. Hydrafacial is suitable for all skin types. All males and females looking to get rid of skin imperfections can go for this facial. Hydrafacial will give you naturally glowing skin, which will last for months and up to a year.
How does Hydrafacial work?
For Hydrafacial Treatment in Islamabad Pakistan, the esthetician uses 4 in 1 vortex technology system. A hydra peel tip is used, which will suck all the impurities and extra sebum from the skin and deliver different serums and antioxidants which will hydrate and plump your skin, giving you a healthier and younger look. Hydrafacial will provide instant results without downtime, discomfort, or irritation for the clients.
Who Needs Hydrafacial?
Hydrafacial is a cosmetic procedure suitable for any age and skin type, but few exceptions. People with active acne should not consider this. You can get hydrafacial if you have the following concerns related to your skin :
wrinkles
sun-damaged skin
facing skin discoloration
Uneven skin texture and tone
Acne or other types of scars
Dull and damaged skin
Clogged pores
blackheads
Brown spots
Rosacea
Signs of ageing
Procedure Of Hydrafacial
At Esthetic, the hydrafacial takes about 30 to 40 minutes. This multi step facial procedure will give you a brighter and younger look that will last for a long time. These steps include:
The first step of hydrafacial is cleansing and peeling. It is also known as skin resurfacing. This step will cleanse all the impurities and dead cells from your skin, leaving your skin smoother. After that, a peeling solution is applied to the skin, which will remove all the damaged and dry skin cells.
Vortex Extraction and Hydration
The extraction is done manually with the help of a vortex suction pump. It will remove all the debris, blackheads, whiteheads, and sebum from the skin. For skin hydration and protection, antioxidants, salicylic acid, and hyaluronic acid are applied on the skin, removing hyperpigmentation, enclosing large open pores, and reducing the appearance of fine lines.
After skin hydration, red and blue LED light is used. Red light helps to improve collagen production, and blue light will control oil production and improve skin texture.
Recovery Period After Hydrafacial
The best thing about hydrafacial is that you do not need any recovery time for your skin. It is a 40 to 50 minutes procedure that will cleanse and exfoliate your skin. If you have sensitive skin, you might see any redness or tightening, but this will fade away after a few hours.
Results Of Hydrafacial 
In Estheticare, the results of hydrafacial are quick and long-lasting. Your dermatologist may recommend multiple sessions to help you achieve the desired results. Hydrafacial will leave your skin hydrated and plumped.
The results also depend upon the dermatologist who will perform the facial and how you will take care of your skin. The results of hydrafacial are not permanent. After getting the required treatment sessions, you may need hydrafacial once a year.
How To Take care of your skin After Hydrafacial?
After getting a Hydrafacial in Islamabad Pakistan, your esthetician will give you some instructions which you should follow to get effective results. These include :
Avoid going in the direct sunlight for a few days.
Apply a good amount of sunblock before going out.
Do not cleanse your skin after hydrafacial.
Avoid using makeup products.
Do not go for face waxing.
If the redness and irritation last for more than two days, visit your dermatologist.
Benefits Of Hydrafacial
Hydrafacial has a lot of benefits. That's why its demand is increasing day by day. By getting hydrafacial, you will notice the following benefits:
You will get super duper glowy skin.
You will get rid of all the wrinkles, fine lines, or any spots on your skin. Which are lowering your confidence.
This procedure has no downtime.
Your skin will become more hydrated and plumped.
It has a reasonable cost.
You will get the results of hydrafacial immediately.
It is suitable for all skin types.
Hydrafacial has no side effects on the skin.
Cost Of hydrafacial In Islamabad
The cost of a single session of Hydrafacial in Islamabad Pakistan is between 12,000 PKR to 20,000 PKR. The price also depends upon the dermatologist, the number of sessions required, and the clinic's location. If you want to know more about the cost of hydrafacial, then consult our team.
Book An Appointment
If You want to get smoother and brighter skin, you must get a hydrafacial in Islamabad. Book your appointment with the best dermatologist or esthetician in Islamabad and get all the benefits of hydrafacial.