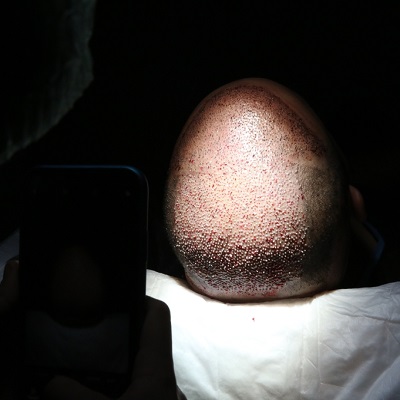 Robotic hair transplant is an advancement in FUE hair transplant. It is the most effective and time-saving method to get your hair back. It is an automated procedure that uses a robotic arm for extracting and implanting hair. Robotic hair transplant in Islamabad is not considered a surgery, as it is a minimally invasive treatment. Estheticare has the best cosmetic surgeons, and they use the latest techniques and algorithms for giving you the best and most natural results. This technique can also be used for eyebrows and eyelash hair transplants. It is the most precise method of hair restoration with less downtime.
Robotic Hair Transplant:
Robotic hair transplant uses physician-assisted technology, which provides natural results, and no one can guess that you have undergone any treatment.ARTAS robotic hair transplant uses artificial intelligence technology for getting the best results. After this treatment, you will not have any linear scar on the donor site. You can make hairstyles according to your choice without any fear.
Good Candidate For The Treatment:
You are an ideal candidate for robotic hair transplant if:
You have a receding front hairline
You want to restore your hair volume and density
You have enough hair grafts on the donor site
It would be best if you had realistic expectations about the outcomes
You should be overall healthy
You must be above 30
Results:
The results of robotic hair transplants in Islamabad are permanent. You will start seeing the results after 4 to 5 months when the hair grafts begin growing. Sometimes you may need one more session to get rid of baldness completely. The complete results can be seen within a year.
Benefits Of Robotic Hair Transplant:
A robotic hair transplant can serve you the following benefits:
It is a virtually pain-free method
It uses an artificial intelligence algorithm
It does not damage the healthy hair
You can recover in less downtime
It is a very precise and effective procedure
It makes natural site creation
This procedure takes less than 5 hours
How To Prepare Before The Treatment?
The surgeon suggests some instructions which you should follow for effective results. You should avoid smoking and drinking before 4 to 5 days of the treatment. Do not take blood thinners as they will slow down the healing process. You should not apply any topical hair treatment before the treatment.
Procedure:
The whole procedure is done under anaesthesia to avoid discomfort to the patient. The procedure is done in two steps which are illustrated below:
This step uses a robotic system for locating the best hair follicles for hair transplantation. With this technique, thousands of hair follicles are harvested with precision and significantly less time, which is impossible with other traditional hair transplant techniques. 
After extracting the hair follicles, the recipient area will be numbed. And a robot is used to place the follicular units' grafts. The surgeon will give all the instructions such as hair direction, site depth, angle of hair elevation and number of recipient site incisions to the robot. And the robot completes the process at high speed and with precision, which is impossible by the human hand.
Recovery:
After the treatment, you need to take care of the treatment area. If you feel pain during the recovery period, take the prescribed medicine. Avoid touching or scratching your head as it can cause allergy or itching.
Risks Associated With Robotic Hair Transplant:
As there are also some risks associated with robotic hair transplant. Some of them are given below:
Artificial results
Limited hair density
A large size gauge needle affects the results
It has fewer success rates than other treatments
The risks of robotic hair transplant in Islamabad can be minimised if performed under the supervision of a skilled hair transplant surgeon. Estheticare has the best hair transplant surgeons to help you achieve the best results.
Schedule An Appointment: 
If you want to know more about robotic hair transplant or the cost, then schedule an appointment with the best surgeon or fill out the form. Our team will guide you in the best possible way.