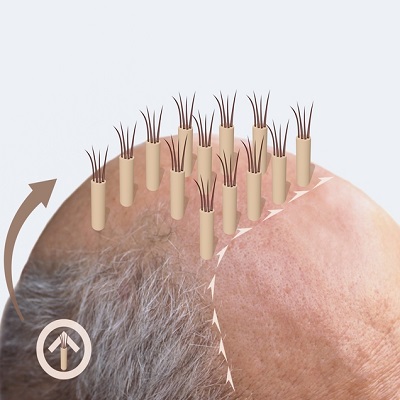 Do you want to solve your hair loss problems or want a fuller hair look, then a FUT hair transplant in Islamabad Pakistan is best for you. People have been facing hair loss problems for ages, but now with the invention of the latest hair transplant technology, you can get your hair back and regain your confidence.
What is a FUT Hair Transplant?
FUT is also known as strip hair transplant or strip method. The hair transplanted by this method has a higher survival rate than other transplantation methods. In a FUT hair transplant, a strip is removed from the back of the head, which has hair follicles, and the grafts are prepared and placed back into the recipient area, where you have hair loss.FUT hair transplant is suitable for you if you have a large bald spot.
Who Is The Right Candidate For FUT Hair transplant?
Before getting the hair transplant, surgeons determine whether you are a good candidate for a FUT hair transplant. You are the right candidate for FUT hair transplant in Islamabad if you meet the below criteria:
Your age must be above 25.
You should have enough donor hair on your scalp to be implanted back into the recipient area.
Your scalp should have enough elasticity to remove the hair by the strip removal method.
Your hair should not be falling rapidly.
You should not be suffering from any severe disease.
Patients who have realistic expectations.
Procedure Of FUT
Estheticare in Islamabad has the best surgeons and dermatologists who will perform the FUT hair transplant. The procedure comprises of following steps:
Firstly the surgeon will examine the patient whether he is a good candidate for a FUT hair transplant. Our surgeon will tell the patient about the procedure and the transplant results.
Then general anesthesia is injected to numb the scalp. Surgeons use surgical blades to remove the piece of skin from the back of the head. After strip removal, the donor area is enclosed by the latest trichophytic closure technique, which lessens the scar visibility.
 After this step, the grafts are prepared, the technician takes the strip of hair and examines it under a microscope. Each graft of hair contains one or more follicles. The best grafts are obtained by dissecting the follicles under a microscope.
On the recipient area, tiny incisions are made, and hair grafts are inserted. Our surgeon performs these steps very carefully.
In the first session of FUT hair transplant, 3000 to 5000 grafts can be inserted. The surgeon will recommend you wash hair in the clinic the next day after treatment.
Objectives Of FUT hair transplant
The main objectives of FUT hair transplant in Islamabad are:
You will get a fuller hair look.
You will get back your youthful look lost due to hair fall.
You will get natural-looking hair.
You will regain your confidence.
If you have any other questions related to the objectives of FUT hair transplant, then we are here for your assistance.
Recovery phase
The recovery time after getting a FUT transplant is extensive. The stitches will be removed after 1 to 2 weeks. During the recovery period, you should avoid doing strenuous activities. Surgeons will recommend painkillers which you can take in case of any discomfort. Swelling and itching are common which will fade away after some days.
You should take complete rest for quick recovery and follow all the instructions given by your doctor regarding head wash or any other aspect.
Results of FUT hair transplant
You will start seeing the results of a FUT hair transplant after 4 to 5 months. The results of FUT are permanent if performed by the best surgeon in Islamabad. You will get back your natural hairline and hence your confidence. If you want long-lasting results of FUT hair transplant, you must visit Estheticare. We have the best and most permanent solution to your hair loss.
Benefits of FUT
FUT hair transplant has many benefits, some of which are:
It is the cheapest surgery
A large number of hair follicles can be grafted per session.
It gives you a natural hair appearance
It is suitable for all types of hair.
It is a permanent solution to hair loss problems.
The grafts survival rate is more as compared to FUE.
Cost Of FUT Hair Transplant 
The cost of a Best FUT Hair Transplant in Islamabad Pakistan depends upon many factors, such as the treatment area and number of treatment sessions required to get the exact results. If you want to know the exact price of your FUT hair transplant, then discuss it with our surgeon.
Book an Appointment
If you want to restore your hair, book an appointment now. The best surgeons in Islamabad will examine your scalp and answer all your queries related to a hair transplant.