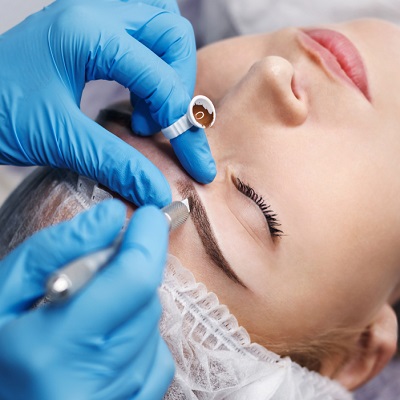 Everyone wants thick eyebrows, which gives them a more enhanced look. In the last few years, women have been using pencils to create an illusion of darker and thicker eyebrows which takes a lot of time. With advancements in cosmetic treatment, a procedure known as microblading is also introduced. This treatment will take a short amount of time and is done with the help of pen-like tools. Microblading is like getting a tattoo on the eyebrows. After getting microblading in Islamabad, you will not have to spend a lot of time filling your eyebrows. This cosmetic treatment will give you natural-looking eyebrows. No one can easily distinguish between your natural or micro bladed eyebrows as this cosmetic treatment will provide you with natural-looking eyebrows.
Candidate For Microblading:
If you want a non-invasive treatment for getting well-defined treatment, then microblading is best for you. You are a perfect candidate for microblading if you have:
If your eyebrows are not growing anymore
If your eyebrows are overplucked
If you have suffered from alopecia in the past
If you have unsymmetrical eyebrows
If you have light coloured eyebrow
You can get checked by the dermatologist, and he will determine if microblading is best for you.
Results:
You will get semi-permanent eyebrows that will last for 1 to 3 years depending upon the age, health, skin type, and how you will take care after the microblading procedure. You will need sessions after a few months to maintain the results. Microblading will give you a more enhanced and beautiful look.
Benefits: 
Some benefits of microblading in Islamabad are as follows:
It will save a lot of time while doing makeup
It will give you natural and long-lasting results
It is a painless and effective procedure
It is the easiest and fastest way to regain your brows if you have a hair loss problem
This treatment will give you perfect eyebrows outline
Procedure Of Microblading:
Our dermatologist will ask specific queries from you, such as the shape you want for your eyebrows, your skincare routine or your medical history. The doctor will also show you a virtual image of your eyebrows before the microblading to satisfy you. After this, a numbing cream is applied to the treatment area to avoid discomfort. A pen-like device that contains needles is used to make minor cuts into the skin, and tint is inserted into the epidermis layer of the skin. The colour of the shade is selected based on patient preference.
After Care Tips:
After getting microblading, you will notice some redness or swelling around the eyebrows, but that is normal and will fade away with time. You should use sunscreen on the face and over the treatment area to avoid any allergic reaction after having sun exposure. Check your skincare product's ingredients before using as some products contain chemicals that can fade away the tint quickly. You should not use any soap or lotion after getting microblading as it can cause itching. You should ask your dermatologist before waxing or threading your eyebrows. By following all these tips, you can avoid any allergic reaction and maintain the treatment results for an extended period.
Recovery:
You may take 1 to 2 weeks to recover. You may feel pain and stiffness in the treatment area during this period, but it is not a serious concern. You should avoid washing your face for a few days as the tint will take a few days to sit on your skin. After 4 to 5 days, your eyebrows will become prickly, and you should avoid scratching or touching them repeatedly as it can cause pain and an allergic reaction. You will get perfectly shaped and tinted brows after your treatment area recovers, and you will feel more confident about your looks.
The risk associated with Microblading:
You can have some side effects after the treatment, which include:
Redness
Swelling
Patcy area
Infection
You can face any skin infection if the dermatologist uses any dirty equipment. But not to worry, at Estheticare, the dermatologist uses sanitized and clean equipment to avoid skin allergies. 
Cost of microblading in Islamabad:
The cost of microblading in Islamabad ranges from 8000 PKR to 15,000 PKR. The price depends upon the condition of the patient's eyebrows, the dermatologist's fees, and the clinic's location. If you are willing to know the exact cost, book an appointment with the best dermatologist.
Consultation:
We believe eyebrows affect facial appearance, so if you are looking forward to improving your facial appearance by getting thickened eyebrows, you can consult our team. They will guide you about microblading treatment in the best way.